A little while ago I approached my friend

akikotree
about helping me with a project I had in mind- to transform my plain store bought busk for my regency stays into a one of a kind art-piece.
Yesturday when I met up with her at The SF Alternative Press Expo (APE) she surprised me with this: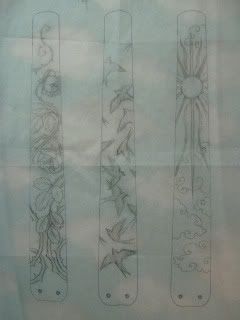 I spent a little bit think about which one I liked best and decided to go with the Roses and Thorns, it felt the most traditional of the three, while still having a modern flair.
Now I have a plan for getting the drawing onto my busk, and it is a good plan! MWAHAHAHAAA!!!
...any way, more pictures and examples of historical decorated busks under the
( cut. )
I also wore my Army Girl Dress to APE, I felt a tad Lolita. The "headband" I am wearing is actually a bow tie. I got that Idea from a girl I met on a bus, few days later my mom asked me if I wanted her old bow tie...Um YES?