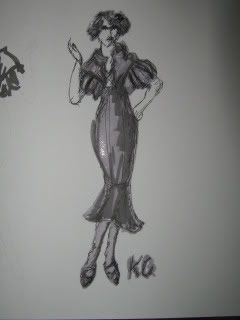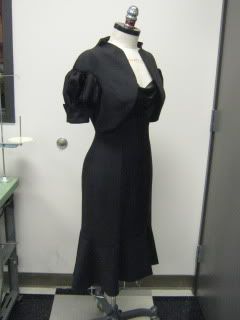 My final Entry to Discarded to Divine: The outfit consistence of a Faux 17th century bolero (complete with cartridge pleated sleeves) over an empire wasted dress with a charmeuse cowl bodice. Both garments are 100% wool and lined in silk. Both garment are also 60% recycled from other clothing.
Preview night at the De Young is April 15th 2011 (For people who want to see the clothes, but not bid) The Actual event, auction and fashion show is April 28, 2011.
http://www.svdp-sf.org/DISCARDED/
All Proceeds from the auctions go towards clothing a feeding the homeless/transient population of San Francisco.
( Construction/details since my last post... )
My teacher is going to have all of my classes garments cleaned/pressed/photographed and turned in by the January 10th deadline. After that they will be juried for the silent auction and runway show.
I
Really
hope my outfit makes it into the fashion show. As a costume-designer it may be the only time I see a non-costume piece go down a runway like this.