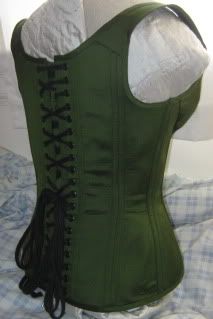 Finals week I was kind of on fire as far as being productive. I finished the corset in time to wear it and all of my projects with enough energy left to go celebrate with my friends after class. It was extremely fun!!!
First we Posted for photos for the Discarded to Divine Records/catalog (After the last 6 hour class).
Then we went to the DarkGarden Holiday party and a few of them tried on corsets for the first time.
After that we accidentally crashed a graduation party at a bar; but since all but me in my group had graduated that day they didn't care and even gave us free drinks! There was also a DJ, and we danced for a few hours before going separate ways and I took BART home. The whole time I was wearing my corset (and my back mini tricorn) it passes the compfy test :)
( More + Floating Modesty Panel )
Now off to other things! I have pie to eat, a coffee run to make, a corset to work on, and an application to work on.