Having class 8:30-6pm on a Monday was a bad Idea, how the hell do people go to work so long!
Anyway, I'v been making fast progress on the regency gown (Well, fast for me!) Public transit has been very helpful in giving me "time" to hand roll the ruffle edges and other hand sewing bits.
As of writing this, I have my bodice cut out and partially basted, skirt and sleeves assembled, and three ruffles left to hem!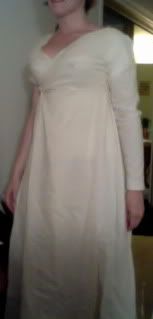 ( More Pictures etc. )