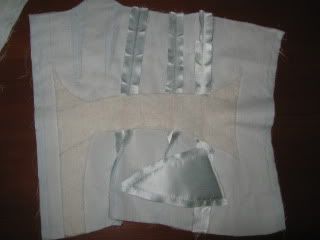 Quite a lot of progress on my quilted corset! (I'v been sick, so sitting and sewing has been nice and relaxing) The strength layer is all sewn, and the fashion layer is all prepped for quilting. Before I progress anymore though, I have to actually decide how I want to do it...
( More Pictures )
Despite being sick I had a really wonderful time down in LA this weekend. I went to the FIDM debut fashion show both nights. On the second night the other scholarship winners and I were presented with little glass star statues by Nick Verreos! I also got to see the Ghetty, and the FIDM Movie Costume Exhibit. I will post some pictures later. My camera died pretty early on, so I need to get some from my friends.
The last day we were lucky to make it out of LA before the storm got too bad. A few hours after we left the friend I was staying with was stranded at her apartment because the street had flooded (2 feet of water!!!) and the power went out for 12 hours. Who builds a city without street drains?!