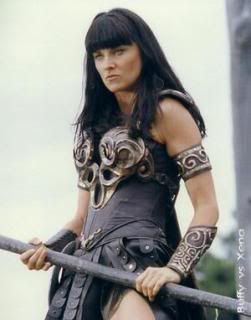 I was a die-hard Xena fan as a kid. I used to have one of those cardboard cutouts of her in my room until my mom got sick of being startled by it :) I have always wanted to make myself her costume, but it has always seamed extremely daunting...
Awhile back I bought that cheapo Leg Avenue dress (Princess Leia meets Xena anyone?) with the intention of turning it into a proper-ish costume. I was thinking of wearing it to Wondercon this year (I'v been poison Ivy two years in a row now) and used a friends "Fight Night/warriors" themed party as a change to get started on it. The results were mixed :/
( The Result )
In other news I slept through my alarm this morning. Felt like a dumbass showing up an hour late to class but at least I still made it for my presentation!
Right now I am waiting in the cafeteria (3 hours) for my reserved slot to print out my final design project. If I print on campus it is free, versus $50-100 bucks if I go to a copy center. One week left then I may never step foot on this campus again, which is weird since I feel like I live here some days.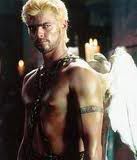 Karl Urban as Cupid :)