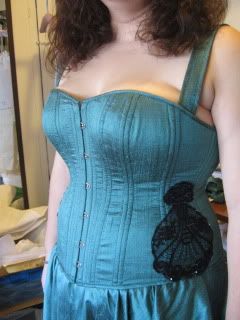 Everything went well at the final fitting last weekend. I am particularly happy with the fit of the bust area. Now All I have left is to sew the motifs on, shorten the straps a little, and hem the skirt and lining.
I think she is going to be the best dressed person at her graduation don't you? :)
( Pictures! )
Once I am 100% done I am probably going to mail or pass of the corset to her, so the next pictures I get will probably be from Katlaoesk herself.
After the fitting I kinda dropped off radar because it was midterms and I had a lot of catch-up to do once I stopped feeling so sick. 7 hours of sleep in three days, I think that is my all time record... last night I slept about 12 to make up for it, and now it all feels like it never happened, weird.