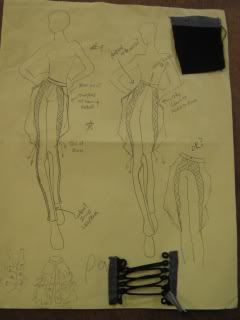 I'v finally gotten to the section of my pattern drafting course were I get to make two original design pants (I had to draft 10 basic styles first) Yesterday I finished sewing up both of the mock-ups, and today I had a fitting in class. NO MAJOR CHANGES WEEE!!! This is such a releif! So far pants have been giving me a lot of trouble; I had to re-draft my sloper three times :(
Thankfully that all seems to be sorted out now, most of the changes were small and I was able to do them in class. I love that making myself pants counts as homework!
My teacher took some photos while I was in class, but unfortunately she used a flash and they came out a bit...see through :/ I took some new ones in front of the mirror, unfortunately it is a little harder to see the details with the lighting.
( Photos )