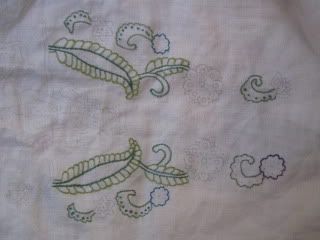 I have made a little more progress on my pockets. I finished all of the plants, french knots and started on the flowers. This was th first time I have ever made french knots, I find them frustrating...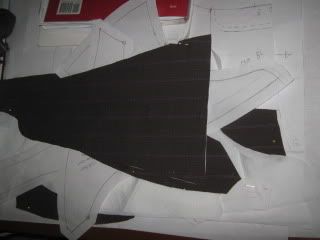 Yesterday I also got a really strong urge to work on my Striped Linen gown, So I did a lot of the pattern alterations (I am using my polonaise as a base) and cut out everything but the skirt and sleeves. Right now I am really undecided on sleeves, but thankfully I can do that last. A bigger problem, and something I have to decide before I progress is the skirt. I know I want the back to be en fourreau, and the front to lace over a stomacher. I played with a few style options as well as lengths in some sketches under the
( CUT )
And now I shall get back to homework. I am trying to get all of the drafting done for the Pants section of my Apparel Arts classes over this break. I only have two pairs of pants left out of ten, and each of those is 50% done already. Button flys are weird, as are Culottes.